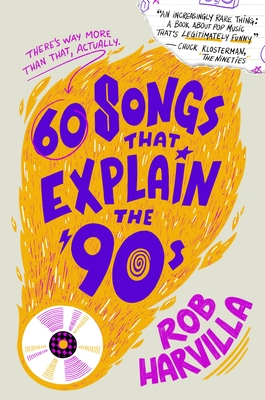 60 Songs That Explain the '90s
Publication Date:
November 14th, 2023
Next Chapter Booksellers
3 on hand, as of Dec 8 10:52pm
(Pop Arts\Culture)
On Our Shelves Now
Description
ONE OF PITCHFORK'S BEST MUSIC BOOKS OF 2023
A companion to the #1 music podcast on Spotify, this book takes readers through the greatest hits that define a weirdly undefinable decade. 
The 1990s were a chaotic and gritty and utterly magical time for music, a confounding barrage of genres and lifestyles and superstars, from grunge to hip-hop, from sumptuous R&B to rambunctious ska-punk, from Axl to Kurt to Missy to Santana to Tupac to Britney. In 60 SONGS THAT EXPLAIN THE '90s, Ringer music critic Rob Harvilla reimagines all the earwormy, iconic hits Gen Xers pine for with vivid historical storytelling, sharp critical analysis, rampant loopiness, and wryly personal ruminations on the most bizarre, joyous, and inescapable songs from a decade we both regret entirely and miss desperately.
Praise for 60 Songs That Explain the '90s
"Since Rob writes every episode [of the podcast], the transition from podcast to book is clean. But the book isn't Rob's podcast episodes written out. Instead, he uses basic themes of the '90s — things like the idea of selling out — and uses them to make unexpected connections. Rob's been one of my favorite music writers for many years, and it's a treat to read him going full widescreen."—Stereogum
"[T]he threads woven between these seemingly disparate songs is one of the book's strengths, mirroring the experience of music discovery in those pivotal teenage years, where one song can lead to another which can then unlock an entirely new potential universe. . . [60 Songs That Explain the '90s] makes the reader consider their own connection with music and invites the kind of sharing that has helped build a community around the production."—Matter News
"Somehow, Rob Harvilla brings new light to the songs and artists that we grew up with and thought we already fully understood. Turns out, there's so much more depth, nuance, tragedy, and humor to be discovered. This book made me tear up about party anthems, marvel at discarded one-hit wonders, and laugh out loud at deadly-serious ballads. This is more than a tribute to the music that scored our childhoods; it's an exploration of how the songs somehow mean even more to us now. (Also: Rob's mom is right about U2)."—Elie Honig, CNN Senior Legal Analyst and bestselling author
"I love the 90s. I grew up in the 90s. I'm protective of the 90s. And the right person has stepped forward to lead us back into the 90s! This book is awesome. Robs podcast, and now his book, is my new best 90s companion. A+ all the way. Must read. "—Bobby Bones, host of The Bobby Bones Show
"Rob Harvilla understands how channel-surfing products of the 90s want their info. Quick, punchy, fun, moving on to the next thing before they even have time to think ab—. This book covers an entire decade of pop culture through a lightning-fast journey of deeply researched histories, funny personal asides, and often forgotten juicy gossip. You'd never expect a chapter that opens on Salt-N-Pepa to end on blink-182 (while touching on Bonnie Raitt, Nine Inch Nails, and Liz Phair along the way), but somehow, it does."—Dan Ozzi, author of SELLOUT: The Major-Label Feeding Frenzy That Swept Punk, Emo, and Hardcore (1994-2007)
"Gratitude for this book, which doesn't only allow a reader to sink into a kind of empty nostalgia, but adds a real generous weight and context to songs, and the world they existed in. I found myself building playlists while I read. This is an interactive, immersive delight."—Hanif Abdurraqib, author of A Little Devil in America: Notes in Praise of Black Performance
"Thankfully, Rob doesn't aim for some grand unified theory of 90s music. Instead, his chapters blend history, personal experience, and cultural criticism into funny, insightful riffs. What a sellout."—Rider Strong, actor, writer, and director
"Rob Harvilla is my kind of writer: Smart, funny, infectiously joyous, and full of heart. Let me emphasize the 'writer' part — if you only know Rob from his delightful podcast, you are about to learn that his mix of critical analysis, cultural journalism and self-effacing Midwestern dad humor is just as entertaining on the page as it is on 60 SONGS THAT EXPLAIN THE '90s. This book is like that friend from high school that you don't see much anymore, but when you do hang out it instantly feels like old times."—Steven Hyden, author of Twilight Of The Gods
"60 SONGS THAT EXPLAIN THE '90s is an increasingly rare thing: A book about pop music that's legitimately funny. Whether or not these songs actually 'explain' the 1990s is irrelevant, because they inadvertently explain something far more interesting -- they explain how songs feel to a person who can't think about life in any other way, and who ultimately understands who they are now through the prism of who they used to be and what they used to like."
 —Chuck Klosterman, New York Times bestselling author of The Nineties
"As a guy who grew up in the 90s, this book is like the liner notes to the soundtrack of my whole life. It turns out I didn't know shit about these songs. God. I wish I thought about anything as much as Rob Harvilla thinks about music. Rob has genuinely made me listen to music differently. He has an ear for the tiniest little moments that I've never even clocked. Little guitar squeaks. Little vocal 'oohs' and grunts. Tiny textures that flew past me for years, but now give me more to listen for in songs I've already listened to for decades. His podcast is my favorite podcast — not just about music, but about anything — and this book complements and honors it perfectly. "—Rich Sommer, actor
"Rob Harvilla has been one of the most creative and influential pop culture writers of the past decade. And I am so happy to report that his first book, 60 SONGS THAT EXPLAIN THE '90s, is exactly as effervescent and weird and unpredictable as Harvilla fans were hoping it would be. He turns ideas into excavations and sentences into roller coaster rides. Buy this book. Don't be an idiot." —Shea Serrano, New York Times bestselling author of The Rap Year Book: The Most Important Rap Song From Every Year Since 1979, Discussed, Debated, and Deconstructed
"They say all biography is autobiography, and as 60 SONGS THAT EXPLAIN THE '90s so amply demonstrates, both Rob Harvilla and '90s popular music are provocative, poignant, self-conscious, jubilant, rueful and, very often, funny.  Straight outta the bravura school of rock criticism, 60 SONGS THAT EXPLAIN THE '90s is partly nostalgia, sure — but, redeemed by encyclopedic breadth, uncanny depth and unflinching reconsideration, it's as much about this time as it is about that time."
 —Michael Azerrad, author of The Amplified Come as You Are
"An epic quest into the sick heart of the Nineties, the most gloriously chaotic music era ever. In this brilliant book, Rob Harvilla breaks down the decade's hits—grunge, rap, pop, ska, the swing revival. But his unstoppable madman enthusiasm and cerebral insight makes this book impossible to put down. (Even the part about the swing revival.)"—Rob Sheffield, journalist
"Rob Harvilla is the only man whose opinions and nostalgia on the music of the 90's I eagerly seek out. I was a teen girl in the nineties and hit the Gladwellian 10,000 hour rule of dude's sermonizing on Dinosaur Jr lore by the 11th grade. So that's really saying something.
 As big algorithm has flattened our collective idea of the nineties, here Harvilla examines and revivifies all the culture shifting, the weirdness, the glorious anthems, and what it meant to be alive and driving around exurban Ohio in your best friends beater car taking in the potent eroticism of Nine Inch Nails with literal virgin ears. Rob's experiences are specific but so universal on what it means to discover music  that is YOUR OWN and fall in love with it. He brings us into the wow and the power of music to transform us, and break open our little worlds and connect us. This book is phenomenally funny, and really scrapes the bowl of nineties music nerdom. A goddamn delight from one of the most insightful critics we've got".—Jessica Hopper, author of The First Collection of Criticism By A Living Female Rock Critic
"Harvilla debuts with a fun and freewheeling look back at the music of the 1990s… a funny and poignant love letter to a decade."—Publisher's Weekly
"A solid introduction to the music of the 1990s that will be useful both to readers unfamiliar with the era's pop culture and to those seeking to immerse themselves in old favorites."—Booklist Reviews
"[I]nstructive and often poignant."—Kirkus Reviews