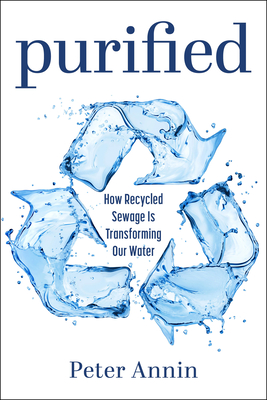 Purified: How Recycled Sewage Is Transforming Our Water
Publication Date:
November 9th, 2023
Description
In 2000, a transformative climate-driven "megadrought" swept over the Colorado River watershed. By the early 2020s, levels on the river's two largest reservoirs were hitting record lows and threatening the water supply for forty million people. Outside the West, water stocks are stressed even in states with bountiful rainfall such as Florida. From coast to coast, conventional measures to sustain the most fundamental natural resource on earth—drinking water—are coming up short. Recycled water could help close that gap.
In Purified: How Recycled Sewage Is Transforming Our Water, veteran journalist Peter Annin shows that wastewater has become a surprising weapon in America's war against water scarcity. Annin probes deep into the water reuse movement in five water-strapped states—California, Texas, Virginia, Nevada, and Florida. He drinks beer made from purified sewage, visits communities where purified sewage came to the rescue, and examines how one of the nation's largest wastewater plants hopes to recycle one hundred percent of its wastewater by 2035. At each stop, readers come face to face with the people who are struggling for, and against, recycled water. While the current filtration technology transforms sewage into something akin to distilled water—free of chemicals and safe to drink—water recycling's challenge isn't technology. It's terminology. Concerns about communities being used as "guinea pigs," sensationalist media coverage, and taglines like "toilet to tap" have repeatedly crippled water recycling efforts. Potable water recycling has become the hottest frontier in the race for expanded water supply options. But can public opinion turn in time to avoid the worst consequences?
Purified's fast-paced narrative cuts through the fearmongering and misinformation to make the case that recycled water is direly needed in the climate-change era. Water cannot be taken for granted anymore—and that includes sewage.
 
Praise for Purified: How Recycled Sewage Is Transforming Our Water
"A concise, imperative primer on the science and politics of the United States' fresh-water crisis."
 
— Library Journal, Starred
"Peter Annin's captivating book, Purified, is a masterful exploration of the profound impact and boundless potential of water recycling in the United States. Annin challenges us to envision a future where every drop of water finds renewal, a future where 100% recycled water flows through our daily lives — compelling us to reimagine our relationship with water, recognizing it not merely as a resource to be consumed and discarded but as a perpetual cycle of sustenance and abundance. Purified is a must-read for anyone seeking to deepen their understanding of water recycling, its significance in our past, and its paramount role in shaping a brighter, greener tomorrow."
— Eric Garcetti, 42nd Mayor of the City of Los Angeles
"Water wars are a serious pastime in the arid West. Peter Annin's informative book provides insights into how water recycling can overcome obstacles and become a practical, safe solution. Whatever one's water policy views, this book is worthwhile and interesting."
 
— Gale Norton, US Secretary of the Interior 2001–2006
"Annin has a journalist's ability to tell a great story. He focuses on individuals working at the cutting edge of turning sewage into drinking water. Purified is an essential read for anyone interested in our water future."
— Robert Glennon, Regents Professor Emeritus, University of Arizona, and author of 'Unquenchable'