Staff Pick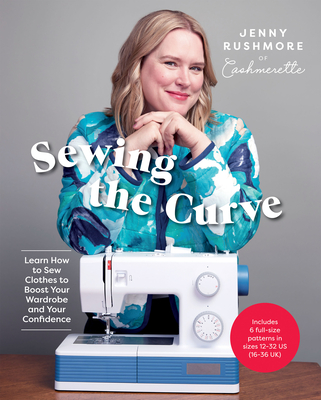 Sewing the Curve: Learn How to Sew Clothes to Boost Your Wardrobe and Your Confidence
Publication Date:
November 14th, 2023
Publisher:
Quadrille Publishing
Next Chapter Booksellers
12 on hand, as of Dec 8 10:52pm
(Crafts\Hobbies)
On Our Shelves Now
Staff Reviews
Want to sew your own clothes, but don't know notion from needle? Most sewing books assume you have some skills already, but Sewing the Curve teaches the basics: how to choose a machine, measure yourself, read and prepare a pattern, evaluate your style, choose appropriate fabrics, and even how to approach sewing if you're disabled or have a chronic illness. Sizes start in the the middle-to-high end of most sewing pattern ranges at 12 (40/32/40 bust/waist/hip-- yes, high end, really) and end at 32 (62/52/62 bust/waist/hip). But the best thing about making your own clothes is they come in size YOU-- so you never have to worry about your top fitting in the bust but having saggy shoulders, or your pants straining at the hip but gaping at the waist. For folks with more experience, get Ahead of the Curve by the same author-- it's a great guide to making adjustments and learning what a good fit looks like!
— Emily
Description
Learning to sew your own clothes can be utterly life changing. Forget squeezing into ill-fitting garments which aren't to your taste, or struggling to find anything in your size – once you can sew, you can make a whole closet of clothes, in any style or fabric, to fit your body. But, learning to sew can be intimidating if you've never picked up a needle, and even more so if you're not in the size range of a lot of beginner patterns or sewing books. Having to learn sewing skills AND learn how to make patterns bigger can be overwhelming, and if you're coming to sewing to help you feel better about your body, it can even end up making you feel worse.Sewing the Curve will teach you how to sew a closet of gorgeous garments. Beginner-friendly, this book will take you from threading your machine to completing your first garment that fits and expresses your personal style. And, it comes with 6 patterns in sizes 12 – 32 and cup sizes C – H, so you can practice and master new skills on patterns made for bodies just like yours.