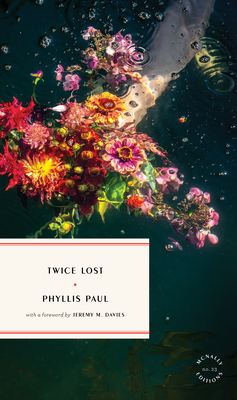 Twice Lost
Publication Date:
October 24th, 2023
Publisher:
McNally Editions
Description
Who could have been so cruel as to do away with poor Vivian Lambert? And why oh why couldn't she just stay dead?
In a rustic, idyllic English village, on a summer's day, in the midst of a carefree tennis party, a fragile, needy child, left too much on her own, vanishes from her family's front garden.
Years pass and the mystery persists: an enduring torment for the teenage Christine Gray, the last person to see Vivian alive. Perhaps if she'd shown the girl a little kindness, and seen her safely home, Vivian might still be with them? Yet when someone claiming to be a grown-up Vivian returns to the land of the living, the enigma seems only to deepen, threatening to consume the wicked and innocent alike.
Equal parts The Turn of the Screw, Picnic at Hanging Rock, and gothic thriller, Twice Lost was admired by such authors as Elizabeth Bowen, Rebecca West, and John Cowper Powys—yet the strange, haunting novels of Phyllis Paul are themselves a mystery with no simple solution. Virtually lost to time even before her death, her novels have been out of print for more than fifty years, and fetch fantastic prices in the rare book trade.
Praise for Twice Lost
"Beautifully executed, deeply unsettling, [Twice Lost] is enigmatic and ambiguous in the way of Shirley Jackson's The Haunting of Hill House and Peter Weir's film Picnic at Hanging Rock . . . Its first chapter immediately creates, then intensifies, an unnerving atmosphere of mystery and menace . . . Astonishing."
— Michael Dirda
"Alternating the knotty revelations of a whodunnit with subjective dives into the uncanny spell of Henry James's The Turn of the Screw and vivid depictions of the pastoral English countryside, Paul's narrative leads readers down the garden path only to send them backtracking through a hedge maze of competing interpretations, under the gradually darkening sky of a fallen Eden . . . Paul [is] a writer worthy of comparison with such diverse sensibilities as Patricia Highsmith's mordant psychological suspense and Charles Williams's Manichean metaphysical fantasy. An odd duck with iridescent plumage."
— David Wright
"Haunting, fascinating, wonderful."
— San Francisco Chronicle
"Phyllis Paul is a writer of hints and half-lights. Her suburban scene is shadowy with empty roads and tall trees in the dusk. Twice Lost is not an easy book to read but neither is it an easy book to forget."
— Times Literary Supplement
"Paul animates her characters with striking qualities . . . The writing is razor-sharp . . . Paul sustains a delightfully macabre mood."
— Publishers Weekly
"[Paul writes with] an almost medieval sense of good and ill. One enters a different world—compelling, fearful, mysterious. The characters live, the place has frightening reality . . . a kind of violent beauty."
— Elizabeth Jane Howard
"Paul's great subject, on the page and off, was darkness—darkness both mundane and metaphysical. To survive, her characters cling to the dark, as much to hide their sins as to keep the truth at a safe distance."
— Jeremy M. Davies
"Phyllis Paul was that rare creature, a puritan with a passionate and colourful imagination . . . [Her] quintessential novel, and arguably her finest, is Twice Lost (1961). Here she is writing at the height of her powers, combining even more successfully than elsewhere a mystery story with a metaphysical fable . . . Twice Lost is an unforgettable portrayal of the human capacity for self-deception, and of the vulnerability of the innocent to the inroads of scrupulosity. It is a novel of a uniquely unsettling kind, the definitive achievement of the possessor of such a fascinating . . . and disturbing gift."
— Glen Cavaliero
"Miss Paul writes with an icicle, in a fine and distinguished way that is quite her own . . . the effect is sombre, impressive, moving."
— Times Literary Supplement