Staff Pick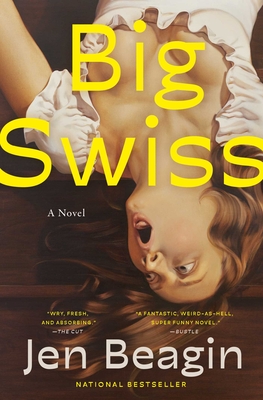 Big Swiss: A Novel
Publication Date:
August 1st, 2023
Next Chapter Booksellers
10 on hand, as of Dec 8 10:52pm
(Fiction\General)
On Our Shelves Now
Staff Reviews
Greta transcribes therapy sessions for a sex coach named Om, in her small town of Hudson, New York. She lives in a run down Dutch farmhouse with her friend Sabine, her dog, and a hive of bees. One day she becomes obsessed and infatuated with Om's newest client, a married woman she refers to as Big Swiss. When she hears Big Swiss's voice out in town she can't help but befriend her, and of course their lives become immediately enmeshed. Filled with flawed characters who are funny and dark, you won't be able to put this book down.
— Adriana
Big Swissis an I-can't-stop-thinking-about-this kind of book. When I first read the concept, I was shocked, but intrigued. Now that I've read the book, I want everyone else to share in my cringing, laughing, and heart palpitations.
February 2023 Indie Next List
Description
NATIONAL BESTSELLER AND CULT FAVORITE
"Wild…hilarious…so good." —Cosmopolitan, Best Books of the Year * "A laugh-out-loud bad romance for Gen Xers and an ode to misfits who just want to belong." —Oprah Daily * "Always interesting…too fun to stop." —Vanity Fair
"One of the funniest books of the last few years" (Los Angeles Times) about a sex therapist's transcriptionist and her affair with one of the patients.
Greta lives with her friend Sabine in an ancient Dutch farmhouse in Hudson, New York. The house is unrenovated, uninsulated, and full of bees. Greta spends her days transcribing therapy sessions for a sex coach who calls himself Om. She becomes infatuated with his newest client, a repressed married woman she affectionately refers to as Big Swiss.
One day, Greta recognizes Big Swiss's voice in town and they quickly become enmeshed. While Big Swiss is unaware Greta has eavesdropped on her most intimate exchanges, Greta has never been more herself with anyone. Her attraction to Big Swiss overrides her guilt, and she'll do anything to sustain the relationship…
"A fantastic, weird-as-hell, super funny novel" (Bustle), Big Swiss is both a love story and a deft examination of infidelity, mental health, sexual stereotypes, and more—from an amazingly talented, singular voice in contemporary fiction.
Praise for Big Swiss: A Novel
"Sexy and darkly funny, at its core this novel turns preconceived notions about mental health, obsession, and trauma upside down." —Rachel Sonis, Time's Must-Read Books of 2023
"A hilarious, dark and quirky coming-of-middle-age story." —NPR, Best Books of 2023
"One of the funniest books of the last few years. . . . Beagin may sooner be hotter than a farm-to-table restaurant in a bougie upstate town, but her work will be around much longer. . . . both timely and ultimately transcendent." —The Los Angeles Times
"It's wild, it's hilarious, and it's so good."—Cosmopolitan, Best Books of 2023 (So Far) 
"An incredible book. . . I couldn't put it down." —Jodie Comer
"The funniest fiction I've read all year... This deliciously eccentric sex comedy bristles with wit and weirdness, but beneath all the antics is a tender heart." —Alexandra Schwartz, The New Yorker
"A fantastic, weird-as-hell, super funny novel." —Bustle
"[Beagin's] most exciting book yet . . . [an] idiosyncratic love story . . . wrenching and hilarious."—New York Magazine    
"Always interesting and frequently hilarious . . . the ride is too fun to stop." —Anthony Breznican, Vanity Fair
"Darkly comic." —New Yorker, Best Books of 2023
"Beagin writes with a zany, overflowing energy. . . . Big Swiss is a comic novel, but it is one with a very tender core."  —Vogue, Most Anticipated Books of 2023
"Beagin may have found the best vehicle yet for her nihilist whimsy." —Entertainment Weekly, Most Anticipated Books of Winter 2023
"Weird and horny and unfettered in all the best ways." —The Millions, Most Anticipated Books of 2023
"Beagin's black comedy is a laugh-out-loud bad romance for Gen Xers and an ode to misfits who just want to belong. . . . If you have a weakness for gossip, this clever and sneakily insightful book is all about the guilty pleasure of peering into other people's private lives." —Oprah Daily
"Outlandish . . . quirky, darkly humorous. . . . One of the biggest literary hits of 2023." —Times Union
"Erotic cottagecore as only Jen Beagin can do it." —Electric Lit
"Delightfully bizarre, darkly humorous . . . the story's oddity is as beguiling as the voyeuristic itch it scratches." —Wall Street Journal
"This funny, offbeat story asks questions about telling the truth, falling in love, and who we really are when no one else is looking—or so we think." —Town & Country, Best Books of 2023 (So Far) 
"This unconventional love story has a surplus of appeal from page one." —Publishers Weekly
"Beagin returns with another wonderfully off-kilter protagonist. . . . Big Swiss establishes her place among artfully eccentric writers like Nell Zink, Elif Batuman, and Jennifer Egan." —Kirkus 
"Big Swiss is a dark party; a hilarious romp through new age pop psychology, romantic obsession, sapphic acrobatics, dogs, and the desire to end it all. Beagin's voice is an engine all its own, and I delighted in this cynical, sexy, hopeless, hopeful, Hudson Valley jubilee. Come for the bees, stay for the donkeys!" —Melissa Broder, author of Milk Fed
"I chugged this book! Pick it up because you like cheese, stay for the brilliant sentences. Beagin channels everything evil, hot, intimate, and funny about spying on people while secretly hoping to get caught. By the end you'll be so in love you'll want to move to Hudson yourself, no matter how messy it gets." —Beth Morgan, author of A Touch of Jen